Ever since I discovered
H! by Henry Holland
at Debenhams department stores and promptly snapped up an array of budget-friendly quirky patterned dresses and a trusty tan leather tasseled satchel, I have been in love with all of the designer's weird, wonderful, and bang on trend creations.
The
House of Holland
Ready-To-Wear collection for Autumn/Winter 2012 certainly has the wow-factor for which Henry Holland's pieces are known and loved. Featuring a delightfully bold selection of prints and colours - from houndstooth to zig zags, fuchsia to metallic green - the collection ranged from the outrageous (think jersey all-in-ones in purple stripes) to the downright sophisticated (I'm already picturing myself in a navy/black shift dress with metallic houndstooth trim).
Clearly running through the collection was a sense of fun. Pair this with the incredible originality of each piece and we've got a winner. Absolute must-haves from the collection include neat fitted cardigans in zig zig stripes of black, yellow, pink, blue and red; oversize knits in blue, black, pink and yellow houndstooth; and a stunning black all-in-one maxi-trousers metallic green houndstooth extravaganza!
See it all here:...
Vogue's Catwalk Report
and here:....
London Fashion Week Daily
Enjoy! :-)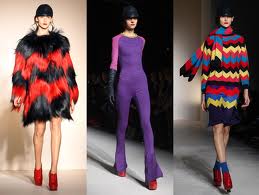 P.s. Why not follow the House of Holland
blog
? It's fab!