For me, Sunday 19 February AKA Day 3 of London Fashion Week was full of Autumn/Winter style highlights. I was eagerly anticipating Twenty8Twelve's presentation, some glitzy sophistication from Matthew Williamson, and effortless cool, as always, from Swedish designers Acne.
Tapping into one of my favourite trends
Twenty8Twelve
presented some gorgeous tailored jackets and coats inspired by the cuts of 1960's London. Top picks included a beautiful, soft-looking suit jacket in light grey with an almost collarless neckline and a cropped grey jacket with black Chanel-style trim and gold button details. As always I was also loving the shorts - in a whole host of lengths, colours, fabrics, patterns, and even with attached waistcoat in the shape of braces. The neatly grown-up feel to this collection was complemented perfectly by splashes of colour throughout - green, fuchsia, orange - and a sense of fun popped up in funky pieces like a retro-styled jade green t-sheet. After seeing this coherent collection of urban style, next season I'll be teaming huge slouchy scarves with a splash of colour, a sharp jacket, and 60's hair and make-up.
Matthew Williamson'
s Autumn/Winter 12 collection was perhaps the one I was most excited about. Being a sucker for a bit of sparkle and always drawn in by the whimsical, bohemian charm of the designer's distinctly feminine style, I was looking forward to being wowed by some
pretty-pretty
but not
matchy-matchy
pieces. And MW certainly didn't disappoint. Think sophisticated dresses reminiscent of 1920s glamour, in peacock palettes, glittering gold flecks, floaty chiffon, and tight fur scarves. Warming and co-ordinating layers of red, browns, yellows, and opulent greens, golds, and blues, appeared on clever cut-outs, printed pleats, the ultimate pencil skirts and shifts, as well as neat lines in tailored trousers, jackets and coats. My favourites included mosaic embellishments, explosions of colour on full length flowing dresses, and flecked fur collars.
Perhaps saving the best until last, Day 3 ended with
Acne
's Autumn/Winter 12 catwalk show. There was something almost futuristic about the structured shapes and thick-belted cinched in waists as the Acne fembots strutted their super-sleek silhouettes down the catwalk on super-high heels. Shining red leather and goggle-like sunglasses added to the sense that Acne has shifted it's laid-back effortless cool up a notch. This is high fashion, people, for the masses. It takes a little courage to walk in those towering heels, but the normal woman can definitely pull off the gorgeous one shoulder red leather dress, the belted quilted jacket with a pencil skirt in the same brown/green shades, and the space utility chic of a silver gauzy blouse, front-split white skirt, and wide control panel waist belt. A perfect finale to a fantastic day of shows.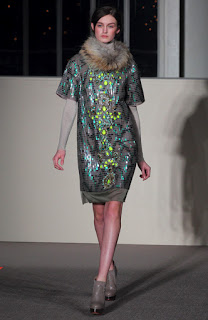 Best look of the day - Matthew Williamson
Today , Day 4, I'll be keen to catch the Burberry Prorsum, Fashion East, and McQ shows. Watch this space!
To find out more about the LFW schedule, click here:
LONDON FASHION WEEK
.
Enjoy! :-)