The July Course from the Premier Enclosure viewing terrace
Every year my blogging seems to follow the same kind of pattern. Summer starts to roll around (yippee!) and, by mid-June, I'm easing into some new-found freedom after I've finished organising the annual Eat Cambridge festival (a fortnight in May which involves indulging in A LOT of excellent local food and drink, plus many long, hard days spent planning and organising and then hosting events). After a few weeks' break from what feels like constant eating and, in between bites, snapping photos to share on social media, I'm getting itchy fingers again - reaching for my phone to Instagram my latest culinary creation, or being tempted by a new foodie opening, and finally finding time to put my laptop down and eat out again. Around this time of year, I find SO much that is good about being a food blogger: beautiful summer produce from our garden and local farms; good evening light for taking photos of supper recipes; and gorgeous sunny days spent exploring the many great eats in our local area. Fantastic timing, then, that this weekend's stunning weather (and a very rare free Saturday to enjoy as a family) saw us donning our fancy threads and venturing over to Newmarket for a day at the races to check out the Summer House Restaurant at
Newmarket Racecourse's July Course
. And we were so glad we did. We had a blast! Read on to find out what we thought of the food (and more)...
Summer House Restaurant hospitality
A visit to the
Summer House Restaurant
in Newmarket Racecourse's Premier Enclosure comes as part of a package. An incredibly well-thought out package, expertly wrapped in special touches, and crammed with friendly vibes, welcoming smiles, and effortless efficiency, as it turns out. There's a lot to be said for good old-fashioned hospitality, and this place has it in spades - ticking all the boxes from our arrival, when the relaxed and friendly staff ushered us in, all smiles and jokes for the little one, calling her by her name as if she's the day's VIP, until the moment we left our spacious table and our air con paradise at the end of the day to hit the 28 degree heat outside. A day in the Summer House Restaurant taught us a thing or two: a bit of structure to a day out is pretty appealing, and a lot of work goes into making everyone feel special. From the start of the day, when we settled in at our table in a sunny corner of the conservatory restaurant and browsed the day's race card and, more importantly, the lunch menu, I was struck by how slick this operation is. There's a tight schedule of racing to work to, after all. But the service and food don't suffer as a result. Not a jot. Race cards and screens are prominent features of the restaurant, as are the lovely ladies buzzing between tables to take bets throughout the day, yet the focus on providing fine food and that charming, good old-fashioned hospitality was seriously impressive.
Heritage Carrot Terrine in the Summer House Restaurant
I had no problem embracing our full-on dining schedule, and got stuck into a fine three course lunch the moment midday hit. Intrigued by a starter created solely with carrots, the heritage carrot terrine was even more beautiful on the plate than it had been in my imagination. Earthy and sweet notes sung out from the rich rainbow of carrot slices, almost overpowering the saffron mayonnaise and virtually undetectable cardamom. I liked it this way; with the vegetable as the star of the show.
Another irresistible plate of food arrived for my main course. A summery tower of seared sea bass, generously portioned and piled high on asparagus, and a rustic-styled potato cake hiding beneath, soaking up juices from the lemon, caper and parsley butter. The fish was delightful, well cooked and seasoned, but the highlight was the fresh and bright scattering of tomatoes and croutons mingling with the herby butter. I have never been so tempted to mop up every last scrap of a sauce. Equally as impressive was the fish from the children's menu: four plump and fluffy cod goujons served with chips and peas, which were followed by a big bowl of ice cream with strawberries and raspberries (just one of the many kind gestures made by the restaurant to accommodate our excitable two year old - the only child visting the restaurant that day, as far as I could tell).
Sea Bass in the Summer House Restaurant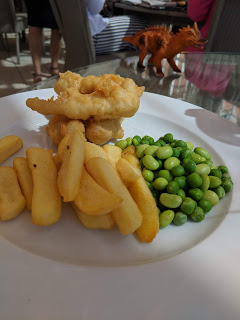 Cod and Chips from the Children's Menu
When it was time for dessert, yet more pretty plates proved to be a feast for all senses. First up was a pleasing chocolate gateau; neat layers of pistachio, hazelnut sponge, and peanut butter mousse, topped with praline tuile and a moreish slick of shining ganache. We also dug into a beautifully presented mandarin cheesecake, and a real treat to temper the sweetness of my chocolate fix: a delightfully tart lemon posset dressed with fizz-popping lemon sherbet and delicate bubbles of prosecco jelly. I'm going back specifically for this lemon posset and, next time, there's no way I'm sharing!
Chocolate Nut Gateau in the Summer House Restaurant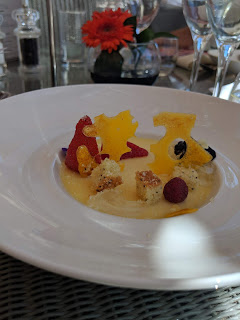 Lemon Posset in the Summer House Restaurant
Before we start plotting our return visit, there's more. A busy afternoon of horse racing is hungry work, after all, and so we ended our day with afternoon tea in the
Summer House Restaurant
just in time to place our bets and watch the last race. Like clockwork, and with the easy smiles and efficiency we'd become accustomed to, a stand laden with cake, scones and sandwiches arrived. My focus was firmly on the simple and delicious sandwiches: classic egg and cress, smoked salmon with an excellent horseradish cream, and a superb - proper - coronation chicken. Heavenly fresh scones vyed for my attention too; golden-baked on top and soft and sweet inside - once I'd slathered them with cream and Tiptree Strawberry and Champagne jam, the poor cakes didn't get a look in (although our little dining companion was more than happy to take them off my hands). As if we needed one, missing out on those cakes is yet another excuse to plan our next trip to the
Summer House Restaurant
. Delightful service, excellent food, and a very special place to spend a summer's day; we'll most definitely be back.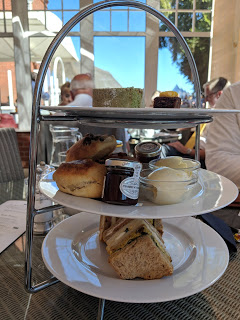 Afternoon Tea in the Summer House Restaurant
Afternoon Tea sandwiches at the Summer House Restaurant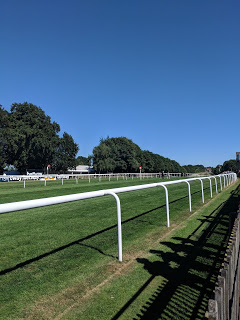 Watching the races
We dined as guests of Newmarket Racecourses as part of a
complimentary Premier Summer House Hospitality Experience. I was invited to review this experience and was under no obligation to post a positive review after our visit, but I would definitely make a return visit and I would recommend the Summer House Restaurant for anyone looking for a very special day out at the races. Find out more about race day hospitality packages at the racecourse here:
www.newmarketracecourses.co.uk