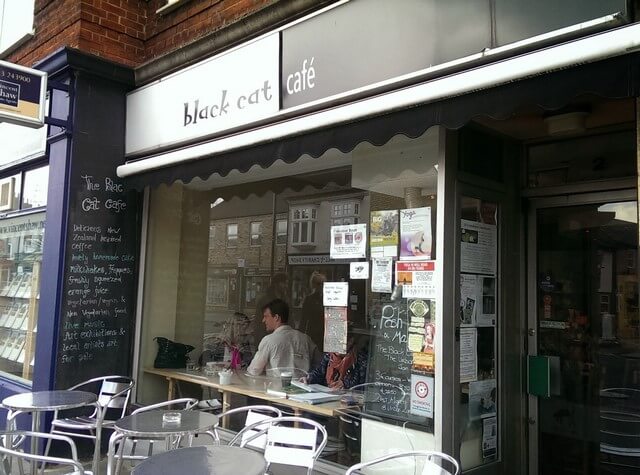 This week's
#CamBrunchReview
took us to a popular Mill Road haunt for a midday feast. As our hunt continues for the best brunch spots in Cambridge, we're getting into the swing of things and timing our visits just right so we can skip breakfast, head for a big brunch, and (hopefully) not need to eat again until dinner. Our weekend outings aren't all about our rumbling tummies and lazy Sunday mornings; we're also on the lookout for the essential elements of the weekend brunch. We're rating the coffee (and other beverages); atmosphere and service; range and suitability of menu choices; the quality, size and value for money of the brunch dishes; and the all-important accompaniments and condiments on offer at each establishment. Our visit to the
Black Cat Cafe
was tinged with nostalgia, reminding me of my first exploration 'over the bridge' to sample the New Zealand inspired cafe and its famous Flat White at the start of a three year stint studying and living at Hughes Hall (at the other end of Mill Road!).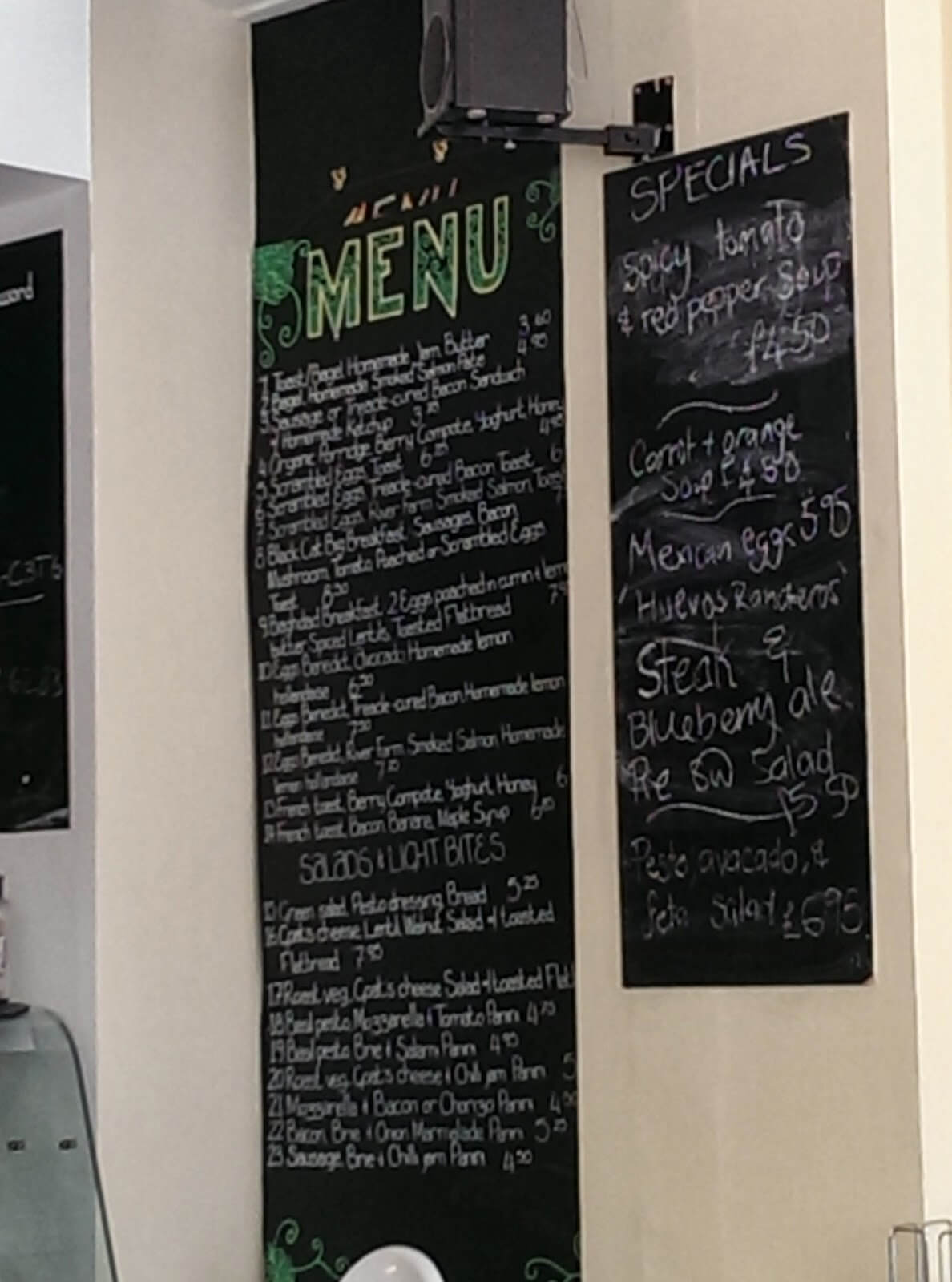 The Black Cat Cafe occupies an unassuming little unit at the start of Mill Road's Broadway, marked by a big black and white sign, and a couple of sets of metal patio tables and chairs on the street outside. The simplicity continues inside, with no real decor to speak of save a big statement black cat painting by the counter (styled on Steinlen's Le Chat Noir) and huge chalkboards advertising the food and drink menus. Pale wood tables and a mix of stools and chairs huddle close together but without infringing upon neighbours and a large counter is packed with muffins, cakes and pastries, with the small open kitchen tucked away behind. The no-frills interior is matched by the laid-back atmosphere: no-one looks up when we arrive and potter around looking for a table, and there's a subtle buzz of chattering customers with smiley and unobtrusive staff efficiently clearing tables as people pop in and out. It was quiet when we arrived just before midday and we lingered over our table for four as long as we liked, even when the cafe started to fill up.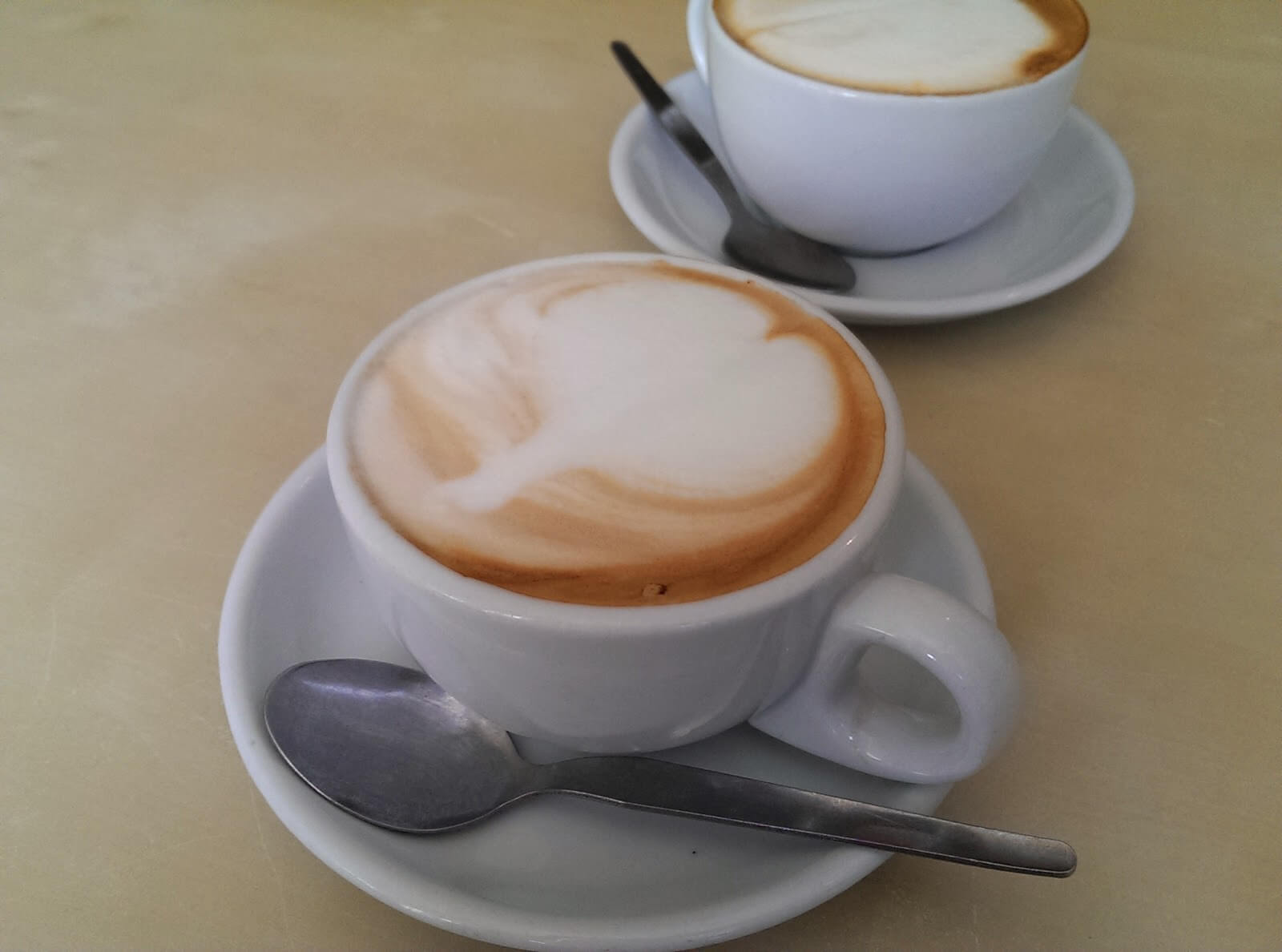 The cafe proudly lays claim to introducing the coffee lovers of Cambridge to the Flat White back in 2005 and the accolade serves them well: it is not usually my drink of choice but I couldn't resist giving it a try. Along with the usual suspects on the coffee menu, a great iced coffee and the famous Flat White lived up to the hype, only lacking the usual milk art which had, um, fallen rather flat itself. Also on the menu is a large tea selection, juices and some tasty sounding smoothies (which I'm saving for a healthier day!). Moving onto the food, we found a massive list of breakfast choices to peruse, chalked up on a blackboard each season and cleverly penned to include all the foodie keywords. Locally sourced and homemade ingredients? Check. Sought after brunch treats like River Farm smoked salmon and treacle-cured bacon? Yes please! We were tempted by it all, from the homemade spicy ketchup accompanying the Big Breakfast, to mentions of cumin lemon butter, spiced lentils, a homemade lemon hollandaise topping the eggs Benedict. Smaller offerings like bagels, toast, porridge and compote, and French toast joined the tasty line-up too. We made decisions, something else caught our eye, changed our minds. At the last second, the specials board piqued our interest with the breakfast special for the weekend, a spicy Huevos Rancheros with flat bread, and we placed our order at the counter before we could mull it over any further.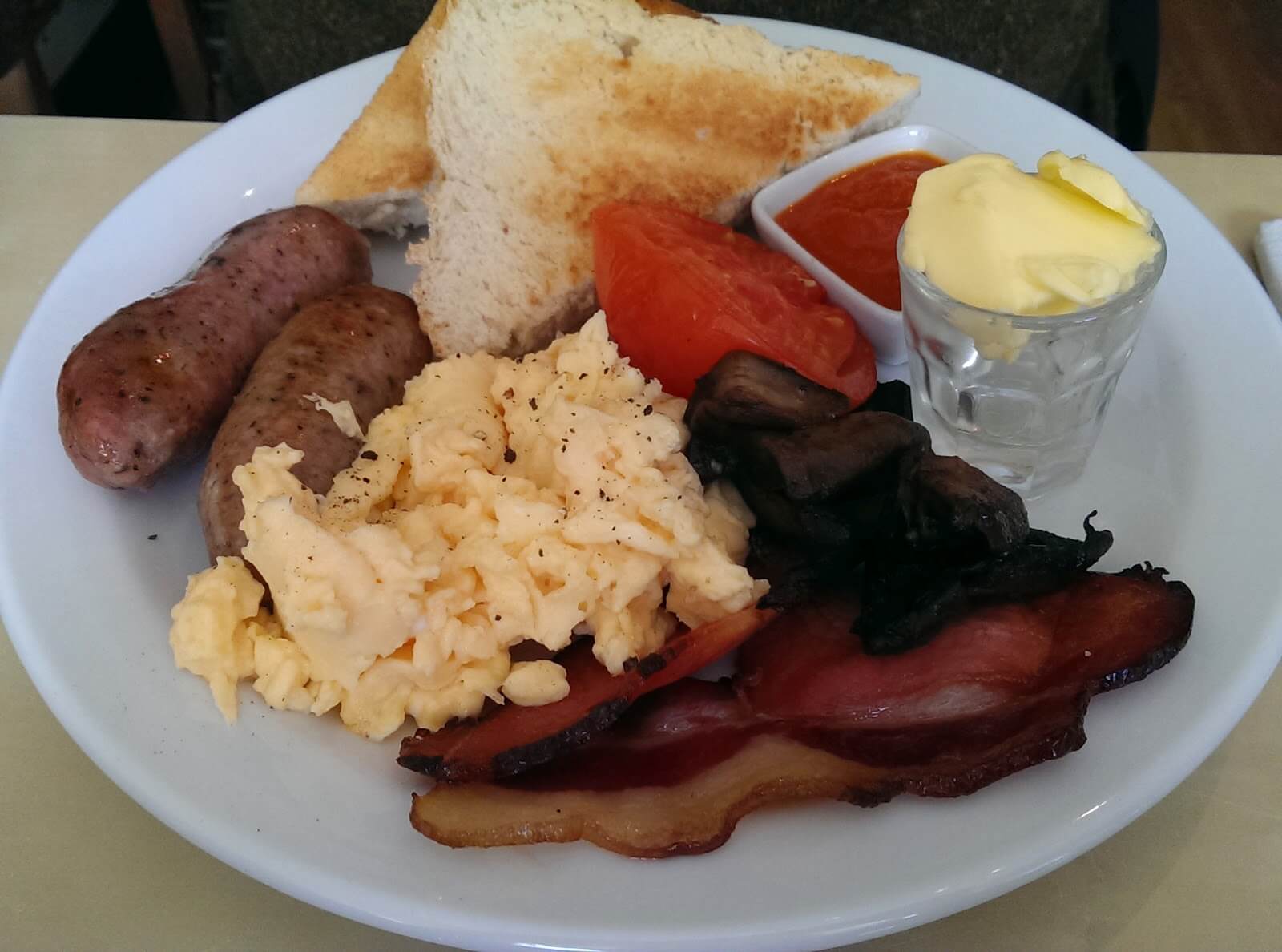 The Black Cat Big Breakfast kept a hungry boy very happy and represented great value at £8.50 for a well-portioned plate of top notch ingredients. The thick-cut bacon and Cumberland sausages won us over, closely followed by gorgeously golden scrambled eggs and homemade ketchup with a Bloody Mary-esque hint of spice. The thick sliced organic bread used for the toast brought further smiles, rounding off a rather splendid and filling breakfast. Equally reassuring was a sophisticated brunch of River Farm smoked salmon with poached eggs; generous folds of salmon, soft yolks, and fresh spinach, all pulled together by a delicately flavoured lemon hollandaise that cut through the richness of the dish perfectly. Piled onto the same superior toast, it proved to be a hugely satisfying midday meal.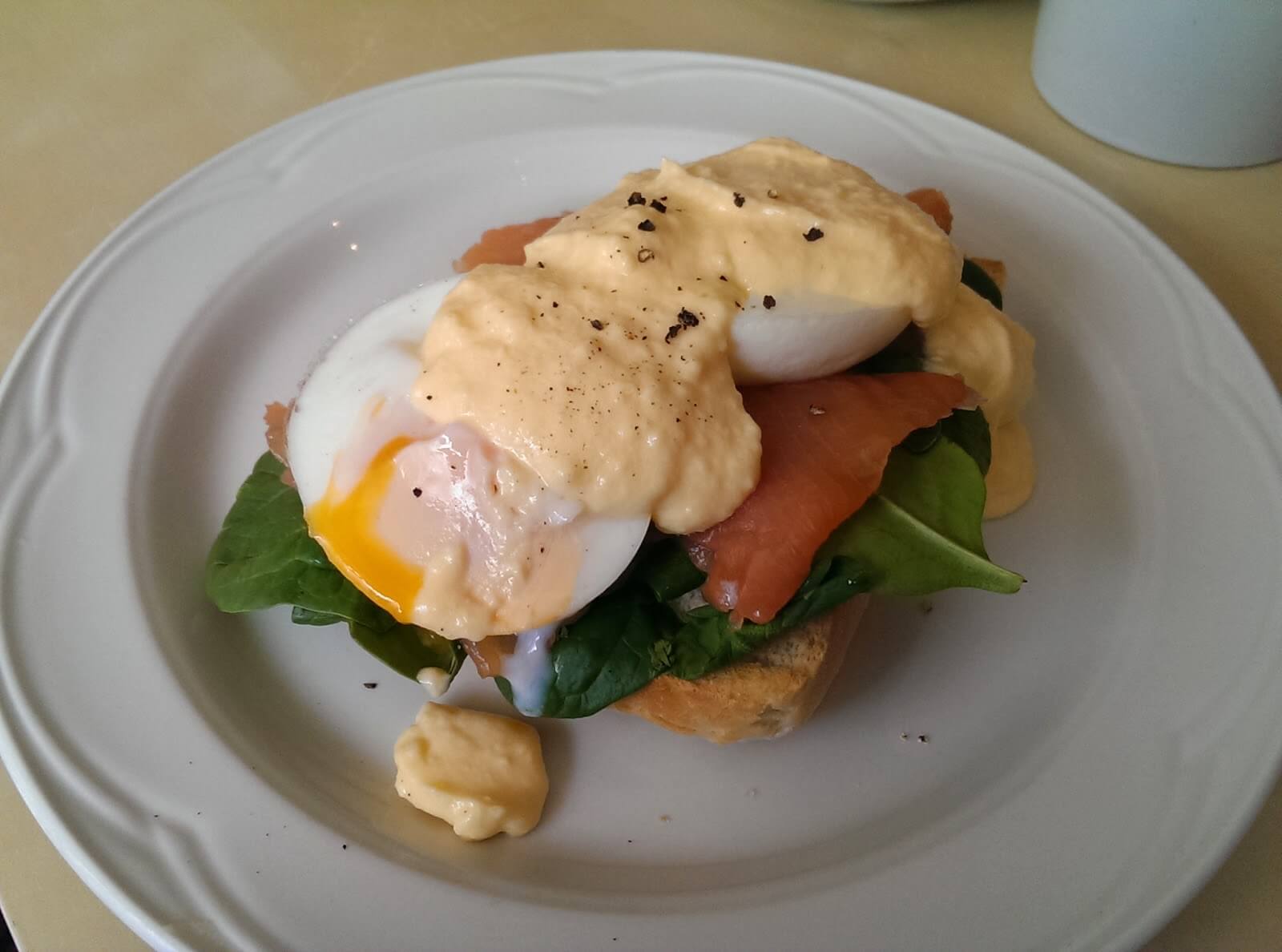 From the day's specials we chose the spicy Mexican eggs, the cafe's take on huevos rancheros, expecting a slightly smaller bite for the £5.95 price tag. Another big and tasty plate of food arrived, featuring two flat breads in place of the traditional tortillas piled high with a chunky tomato, pepper, and chilli salsa, an indistinguishable number of sprawling eggs, and a scattering of fresh spinach. A great version of Mexican eggs, the heat in this fiery little number was spot on and full of the hangover-busting flavours associated with the classic but the sauce was slightly watery and definitely more towards a salsa than the thick, rich tomato sauce we had expected. It was delicious, nonetheless, and its savoury, spicy notes really perked us up on a gloomy Cambridge day.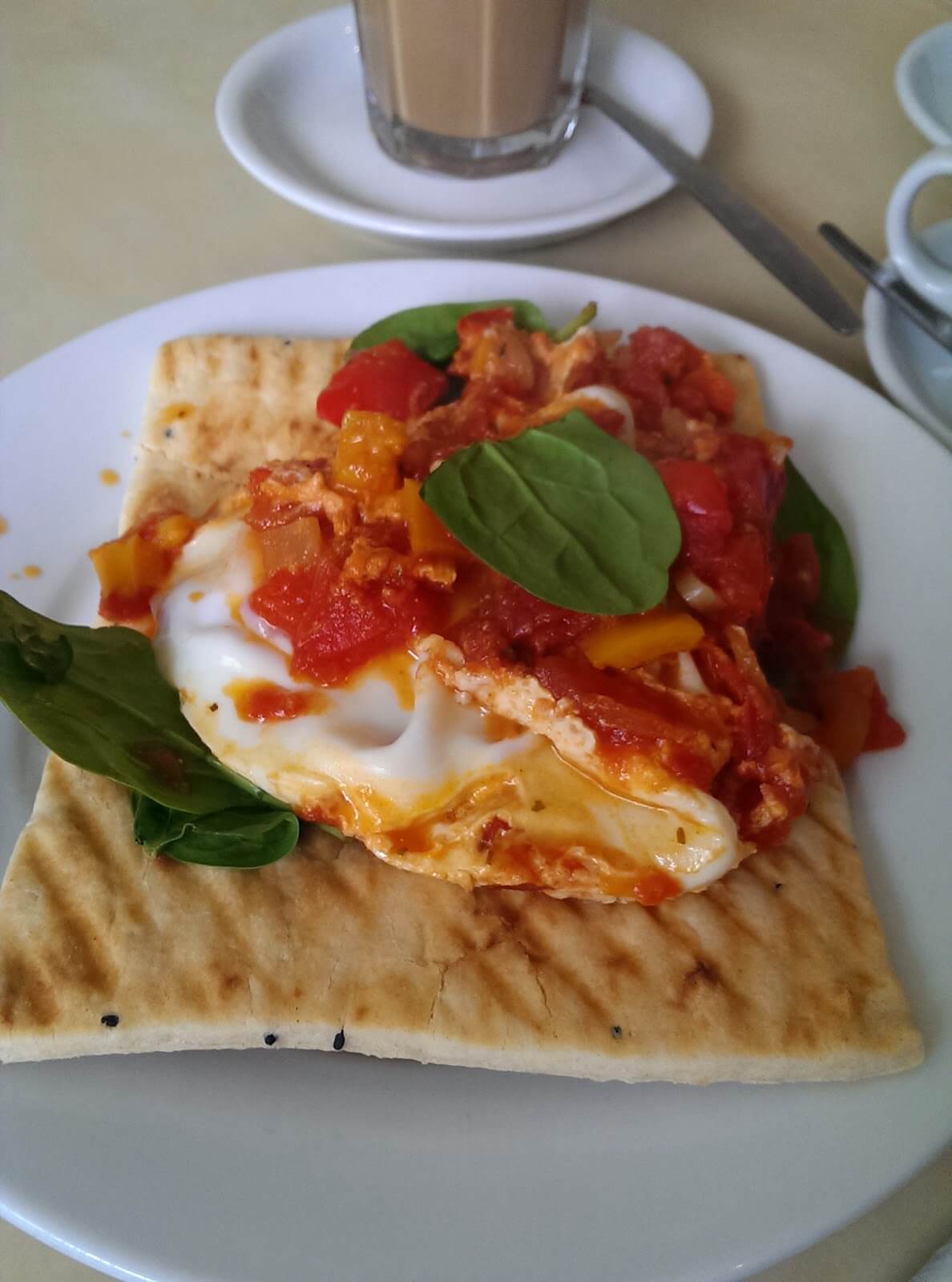 Our verdict: How refreshing to find an established independent cafe that functions like a well-oiled machine without losing its sparkle. Black Cat Cafe not only ticks some big brunch boxes but goes the extra mile with fantastic foodie touches and friendly, seamless service. This is definitely one for the foodies, but, thanks to the welcoming and inclusive atmosphere, also for anyone else who fancies dropping by. We loved it.
Our rating (1 being BAD and 5 being PERFECT!): 4 out of 5
When to go: Brunch seems to be served all day long and there was a steady stream of people at midday on a Sunday but the sunny, spacious cafe never felt too busy or rushed. Perfect for a Sunday afternoon feast with friends, or for Mill Road people watching from the tables on the street.
Where's
your
favourite brunch spot in Cambridge?
Tweet us
recommendations and ideas for future reviews using
#CamBrunchReview
.