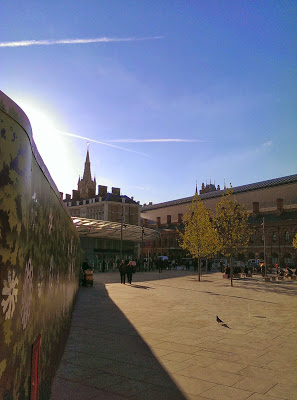 A trip to London to check out the new King's Cross N1C development led us to the timeless luxury of the
Great Northern Hotel
for a fine breakfast in the boutique hotel's
Plum + Spilt Milk
restaurant. The beautifully restored facade of the Grade II listed building towers grandly over the station's main entrance, very much part of the area's new landscape, yet inside transporting its guests far, far away from the bustling transport hub below.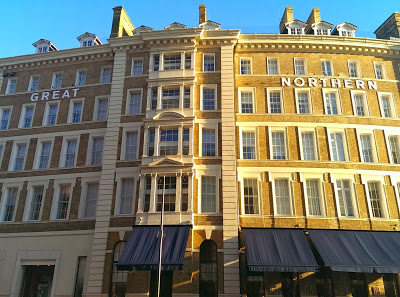 The Great Northern must be one of the most attractive station hotels in the country, drawing people direct from their travels in to the grand
GNH Bar
for cocktails and Sunday brunch with sultry live music; or upstairs to the Parisian-styled restaurant for a glamorous pre-shopping breakfast, lunch or quick dinner from the express early evening menu. Although the interior - all marbled tabletops, leather banquettes and wood panelling - could be straight from an upmarket Paris brasserie, the food is unmistakeably British. Chef Mark Sargeant keeps the focus on simple British classics, using top quality ingredients from around the country. The breakfast menu in Plum + Spilt Milk reflects his passion for recreating the best of British, from savoury favourites like East Coast Kipper with parsley butter and the classic Full English, to picture perfect plates of eggs Benedict, Florentine and Royale, and smoked salmon with scrambled eggs. Sweet treats feature, too, all freshly baked and smelling amazing, including big and fluffy, golden pastries, and a classic brioche with crème fraîche.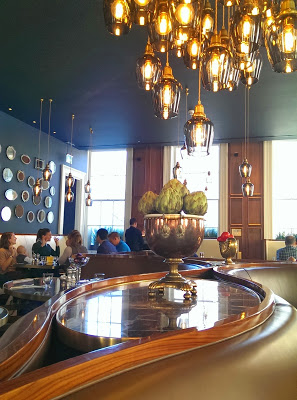 Lounging in our grand booth at the centre of the restaurant, we lapped up the atmosphere and much-needed coffees before settling on two popular savoury options to set us up for the day. A salt beef hash arrived, shaped into a round and topped with a flawless fried egg ready to ooze out onto roughly mixed pattie of rich, seasoned meat and crisped potato. It was delightfully salty, tempered by the creamy yolk and a naughty helping of ketchup on the side. We couldn't pass up on the opportunity to indulge in the full English breakfast and the plate that arrived didn't disappoint either; vibrant yellow, buttery and fluffy scrambled eggs nestled against proper sausages, bacon, black pudding and silky jet black mushrooms and a lightly grilled tomato.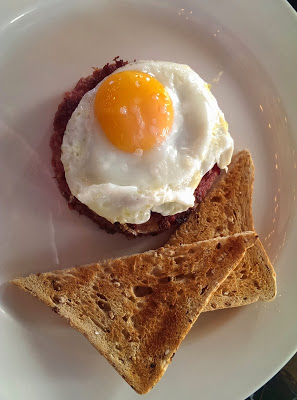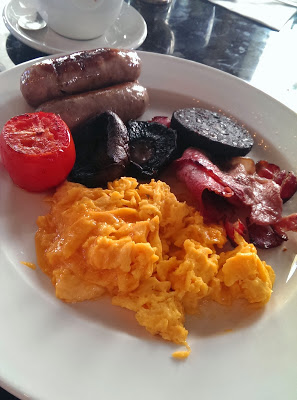 With the two rounds of toast we devoured alongside them, both dishes were substantial and satisfying, full of the trademark British ingredients we had been promised. We still managed to greedily eye up a passing plate holding a huge cheese omelette and to squeeze in a little more toast slathered with heavenly thick-cut orange marmalade before we headed back out to the hustle and bustle of King's Cross on a Saturday morning.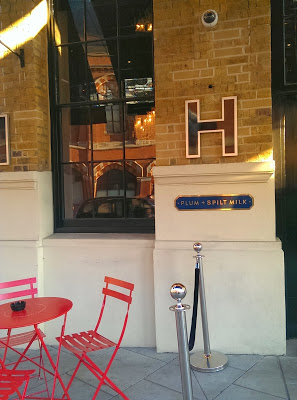 Our verdict: An incredibly stylish and relaxing atmosphere in which to start the day, with fine food and a high level of attention to detail. We've got our sights set on a blissful evening dining at Plum + Split Milk before settling down for the night in one of the luxury couchette-styled bedrooms and zipping off to Paris by Eurostar the next morning. Who knew King's Cross would become a dream destination?
Read more about our trip to King's Cross on localsecrets.com
here
.
We dined as guests of the hotel.