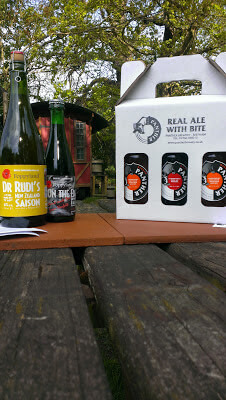 Following in the footsteps of the recent
#CamShopLocal campaign
, which took place in Cambridge in April and proved to be an incredibly fun and educational way of encouraging people to seek out and sample what's on offer from our local, independent shops and suppliers, we're embarking on a whole month of drinking local. This doesn't just mean you've got an excuse to prop up the bar in your local indy ale house or community pub (although, why not?). It's much more exciting than that.
#CamDrinkLocal
- a hashtag coined over a half of ale in Cambridge's newest Milton Brewery pub, the Haymakers, and used with kind permission of #CamShopLocal blogger,
Carri Pavitt
- is an entire four weeks devoted to the quest for our area's best local tipples. We're having a great time hunting down all locally grown, produced, brewed, distilled or fermented drinks - from local beers, ciders, wines and cordials, to coffee, teas and anything else you can find in Cambridgeshire and our neighbouring counties. During the
#CamDrinkLocal
campaign, running from Monday 20 May to Sunday 16 June, we've been out and about investigating and tasting wares from local breweries, vineyards, pubs and bars, cafes and restaurants, and farm shops and orchards.
First up: good old East Anglian ales at the Cambridge Beer Festival. In Cambridgeshire alone we found some exciting brewing going on and a fantastic range of beer styles. Some of our favourites are listed below in alphabetical order:
Bexar County, Peterborough - a highlight is the Lone Ryder Granada infused with pomegranate
BlackBar, Cambridge - the lighter Little Boy is great for summer drinking
Cambridge Brew House, Cambridge - the Chestnut Festival Special bitter was a huge hit
Milton Brewery, Waterbeach
Moonshine Brewery, Cambridge - their Hot Numbers Coffee Stout features locally roasted and ground beans from another favourite of ours, Hot Numbers cafe on Gwydir Street. Belgian style wheat beer, Bury St Edmunds Brew Club, was rather tasty too.

There's some fantastic cider being produced in the area, too, including the famous Cam Valley, Cromwell and Pickled Pig ciders made from local orchards. With English Wine Week making an appearance during #CamDrinkLocal and recent talk of sparkling wines from the south of England rivalling our French neighbours, we made a beeline for the Beer Festival's mead and wine bar. Chilford Hall near Linton does a lovely glass of rose but we sampled some sparkling fizz from Essex's New Hall Vineyard. It was closer to premium sparkling cider than wine but it made a refreshing change from imported brands.
One beer festival wasn't enough. Hearing great things about the real ale scene in Norwich, we popped over the border to Norfolk to sample some local tipples. The Norwich City of Ale 2013 festival was in full swing, giving us the opportunity to chat to some local brewers and producers as well as tasting the local beers and buying a few bottles to take home with us. We particularly liked the good honest English ales from small specialist craft brewery, Norfolk Square Brewery, and the crowd-pleasing range of flavoured beers from Panther Brewery, including a fiery ginger wheat beer that slipped down ever so easily! Although edging more towards the foreign beers category than truly local, we also discovered some fantastic saison ales from Poppyland Brewery up in Cromer on the North Norfolk coast. The bottle conditioned dry-hopped 'On the Edge' and orange zesty 'Dr Rudi's' were deliciously summery, as is to be expected, refreshing and full of character thanks to the finest North Norfolk malt that goes into every (small) batch.
The East of England Co-operative proved to be a great research source for #CamDrinkLocal, too. It's a shame we had to go to Suffolk and Norfolk to find one though. Not to be confused with the national chain of Co-ops, like those found in Cambridge, the EoE Co-op stocks whole sections of 'Sourced Locally' items. For us, this meant whole shelves of locally produced drinks - from a rather, um, interesting raspberry fruit wine by Broadland Wineries near Norwich, to local apple juices, more of the abovementioned Norfolk Square Brewery ales and ciders, and more mainstream favourites like Suffolk's Aspall Cider.
A couple of weeks of research was rounded off rather nicely by Head Brewer James at The Cambridge Brew House on King Street agreeing to brew a bespoke #CamDrinkLocal ale for us, based on local, seasonal ingredients. Rumour has it that local rhubarb and fiery ginger are involved so, if you fancy a taste, the final brew will be unveiled at the next brewery open evening at the pub on Tuesday 11 June! As the sunshine finally made an appearance another kind local drinks expert, Thirst First, knocked up an amazing summer punch making use of the best local ingredients on offer. Take a peek at the fruity vodka
#CamDrinkLocal Summer Punch here
and give it a go yourselves!
So it seems we're spoilt for choice so far! How are you getting on with #CamDrinkLocal? We'd love to hear about your favourite tipples from Cambridgeshire and surrounding areas!