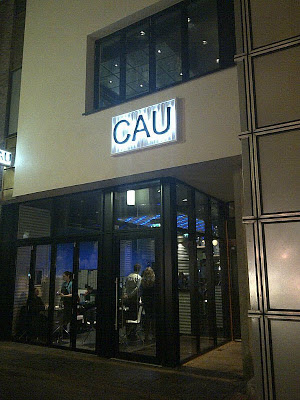 When I heard rumours last year that the old Barclays site in Cambridge was firmly on the horizon of
Gaucho
, known mainly for its established Argentine steak restaurants, I wasn't particularly surprised that the 70s extension of the rather grand building in a prime city centre location was being snapped up by yet another big chain (the other half is earmarked for awful Italian chain Zizzi). However, I was open to the idea of a restaurant dedicated to delivering good quality steaks, which I've found to be a bit hit and miss elsewhere in the city. I had in mind a simple but excellent quality steak and chips offering, perhaps with a few classic sauces and a well-sourced wine list (if that sounds good, I suggest you wait for the opening of
Le Gros Franck
's sister restaurant
La Maison du Steak
in a few weeks time). Instead we've welcomed the arrival of Argentinian-themed restaurant
CAU
, the trendier younger sister of Gaucho, with its harshly industrial decor, cosmopolitan atmosphere and speciality steaks and burgers. The second opening of the smaller, more independently-styled CAU brand, albeit still part of the Gaucho Group, does have a lot going for it. But with beef flying in from halfway round the world and customer service so polished its gleaming, it might prove a little too uniform for our local anti-clones.
'Argentinian beef done our way' is how CAU sums up its menu, which contains an extensive selection of steaks, burgers and steak sandwiches using cuts of Argentinian beef and some distinctive South American and Argentinian flavours. The choice of classic steaks and speciality cuts is rather impressive and there appears to be a burger or steak sandwich to suit every taste; notably accompanied by trendy brioche buns and homemade ciabatta respectively. The starters and light bites section of the menu could probably be halved to keep the authentic yet contemporary bits, such as the meltingly soft ribbons of yerba-smoked beef dressed with soy and wasabi, and lose the bog-standard bruschetta and fishcakes. Similarly, there's another section of main courses that I suspect may be surplus to requirements; I completely bypassed them on my way down to drool over the steaks on offer but I did spot a neighbouring table tucking into a bowl of huge, plump mussels that looked and smelled amazing.
The starters set the tone for the meal: generous portions of delicious ingredients and distinctive flavours. The combination of salty, sweet and slightly citrus flavours of the Asian style dressing worked incredibly well with the subtle kick of wasabi and soft, thinly sliced carpaccio beef in the yerba-smoked beef dish. Served in a mini frying basket, lined with CAU-branded paper, the pork belly was pretty as well as hugely satisfying. The large portion of bite sized tempura sounded like a recipe for diet disaster but turned out to be light and crispy and all about tender pork rather than deep-fried pig fat. A very easy drinking sparkling Argentinian Malbec, deep pink in colour and packing quite a punch, proved to be a versatile partner.
Naturally we wanted to sample a speciality steak for the main course and a friendly waiter was only too happy to guide us through this section of the menu, although perhaps being a little too transparent about having to push a variety of cuts to keep the kitchen happy! We decided to share an 18oz steak between us; a spiral cut of rib-eye called tira de ancho, which was a beast of a steak, marinated in a herb, garlic, vinegar and paprika sauce called chimichurri and then grilled slowly. Just a touch more towards medium than rare, the incredibly succulent beef surprised us: a slightly charred, crisp surface gave way to the melting, soft meat beneath and the taste of barbeque and spice permeated every fibre. It was exquisite; the quality was clear, the clever cut and careful cooking adding further to the tenderness of the meat. Although a plate of tira de ancho, with extra chimichurri to drizzle over the top, would have been pure heaven on its own, we sampled a few side dishes too. We kept it simple with triple-cooked chunky chips, a classic Argentinian dish of spicy chickpeas and chorizo, and some causlaw (also known as coleslaw and pretty average at that). The chips were fine, not too greasy but a little too crispy in parts, and the chickpeas and chorizo combination was a real winner of rich tomato, spicy heat and piquant chunks of chorizo. We kept it real and drank the two red Argentinian Malbecs on offer; unsurprisingly both great matches for the steak with the lighter, more floral El Supremo working very well with the herby chimichurri and rich, rare beef.
The love story ended when we finished our final mouthfuls of steak and moved on to two rather disappointing desserts. We shared the churros, the Argentinian doughnut in mini form, which had been piped into the fryer before being tossed in sugar and served with chocolate sauce for dipping. The churros were crispy, empty shells overwhelmed by cinnamon sugar, redeemed slightly by our waiter actually caring that we left half of them and discussing how they could be improved. We enjoyed the dulce de leche pancakes a little more, especially the caramel sauce, but there was too much filling oozing out in a sickly sweet puddle and overall the dish was nothing special.
For a leisurely lunch or dinner, we loved the no-rush approach to service and incredible quality of the steaks; long may it continue. On a return visit, a little more space between tables and a more satisfying dessert menu would tick a few more boxes. For now, we recommend booking a booth and settling in for an hour or so of sociable steak-sharing.
Enjoy! :-)
We dined as guests of the restaurant.