Warning: this is a lazy leftovers / store cupboard recipe. Click away if you're offended by roasted peppers and chillies coming from a jar... This is a simple recipe for baked eggs: tomatoes, peppers, garlic and spice, topped with a baked egg and lots of black pepper. I love cooking these spicy eggs for brunch and also serving as a side dish with steak and lots of steamed greens.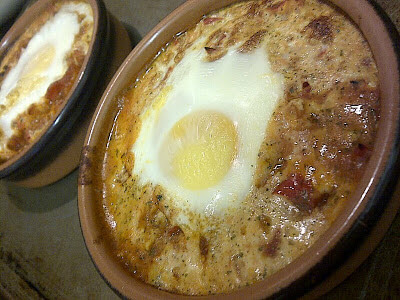 Ingredients (for 2 baked eggs)
Olive oil
1 clove of garlic, crushed
2 large fresh tomatoes, diced
1/2 roasted red pepper, diced (I use deli-style Karyatis peppers from a jar)
1 red chilli, sliced (fresh is fine but I used some Karyatis chillies this time)
1 tbsp tomato puree
2 eggs
Coriander leaf
Salt & pepper
Preheat the oven to 180c and heat some olive oil in a frying pan over a medium heat. Gently cook the oil, crushed garlic and diced tomatoes, until the juice from the tomatoes starts to thicken into a sauce. Add the tomato puree, red pepper and chilli and mix well until tender. Season well, add a generous sprinkling of coriander, and divide the sauce into two small ovenproof dishes. Make a little well in the centre of each and break an egg into it. Pop into the oven for about 10 minutes, until the whites are set. Garnish with plenty of black pepper and serve hot.
Enjoy! :-)