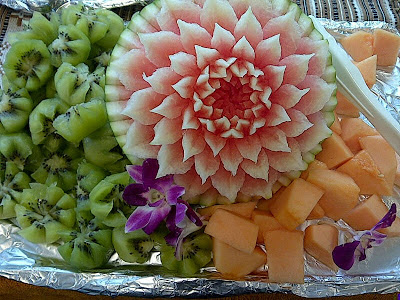 It is not every weekend that you receive an invitation to dine as a special guest at an exquisite Thai feast hosted by some Buddhist monks in your home city. So, when the opportunity to tag along with one of the speakers at the event (my dad) came my way, I was thrilled and intrigued in equal measures. I've never been to Thailand but I love the version of Thai food we eat in the UK and was very keen to try some more authentic dishes. I wasn't disappointed. In bizarre contrast to my usual Sunday pastimes, I spent the afternoon sampling some delicious Thai cuisine, dabbling in a little Buddhist meditation, and getting a fascinating insight into Cambridge's Thai community. Here's how it went down...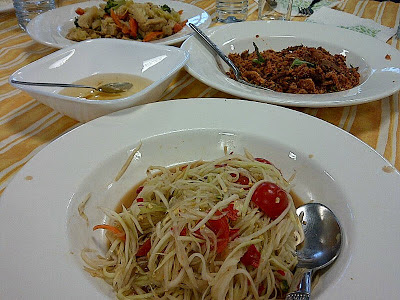 First came the food; bowls and plates piled high with fresh, colourful, deliciously aromatic food. On arrival, I was fascinated by a huge display of intricately carved fruit, which had to be given a table of its own, and continued to be wowed by the effort that had been made with the presentation as well as the flavour of every dish. The pride taken by our chefs for the day, members of Cambridge's Thai community who also run or cook for the local Thai restaurants, was evident as they served us dish after dish, urging us to try this or that, talking to us about their favourites, and constantly checking whether we needed more. We didn't; the portions were incredibly generous and the bowls seemingly bottomless. And everything we tried was so delicious that I wanted to eat it over and over again.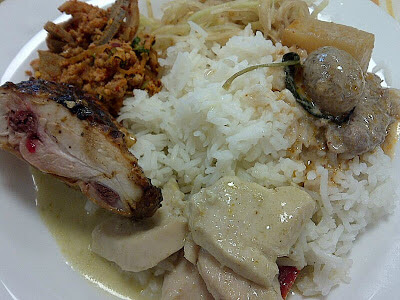 There was a huge selection of foods, ranging from more familiar dishes like coconut milk curries to those more usually found in Thai homes, like cold salads and spicy minced meat. An intriguing papaya salad almost blew our heads off. A lively little number consisting of shredded papaya and fresh tomatoes, the cold dish was laden with fiery chilli, producing a nice refreshing crunch on first bite followed by an intense heat that made my eyes water. We were advised to try it little and often, but our Thai host informed us that she eats it all the time at home. Another unusual dish was a spicy, fragrant mix of minced pork and sliced liver with fresh coriander. A dry meat dish was a nice change from creamy curries and stir-fries, and reminded me of the moist, fruitiness of an Indian
hyderabadi curry
I like so much.
I hope I'm not too much of a predictable disappointment when I admit that the coconut milk curries were my favourite part of the meal. The chicken green curry was mild, but with a hint of chilli lurking beneath the light fragrant coconut, and the duck red curry had a great spicy kick going on. The coconut milk sauce of both dishes was much lighter and thinner than I've tended to make my Thai curries in the past. The great smooth consistency was still there but without being too thick and creamy. This meant more attention was paid to the lovely tender meat and the use of authentic ingredients, like the whole lychees in the duck curry. Soaked up by the fluffy Thai rice, the curries held the whole menu together.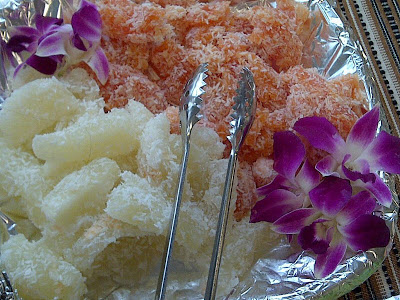 As usual, my eyes proved to be bigger than my belly, and suddenly I was being rushed through dessert - fresh fruit to cleanse the palate and some pretty sweets covered in shredded coconut - to be ushered into the ceremony hall. I found myself feeling very full, in need of a nap, and faced with a stage filled with beautiful flower displays, ornate gold and carved wood temples, and four Buddhist monks from the Cambridge Buddha Metta community. I hadn't been briefed about the Civara Dana Ceremony portion of the event, but took the ensuing meditation and Thai dancing in my stride. The basic meditation (chanting and breathing) focused on well being, happiness, and long-term benefits of letting go of anger and negativity, in a relaxed, unobtrusive way. Perhaps the equivalent to a nap on the sofa and a touch of Antiques Roadshow after a big Sunday roast. The Thai dancing then woke everyone up, with some popular Thai dance tunes, stunning outfits, and traditional Thai moves. Definitely not your usual Sunday afternoon but, in fact, an amazing insight into a very different side to the Cambridge we see on a daily basis.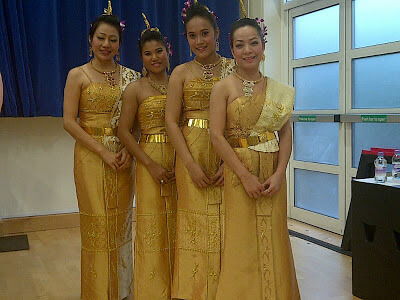 The event was hosted by Netherhall School in cooperation with
Buddha Metta Cambridge
, supported by Cambridge's British, Thai and International communities, to raise funds for a new Buddhist temple in Cambridge. I attended as a guest of the organisers.