I'm reading an interesting and inspiring book at the moment called
Seasonal Food
by Paul Waddington (published by
Eden Project books
). It is essentially a food reference book which clearly sets out what's in season in the UK throughout the calendar year.
I was barely half-way through the book's introduction when I became hooked and started planning how I could eat better and smarter by just focusing on which foods are fresh and available in my local area. It sounds obvious - and the idea is definitely not new to our household, with our homegrown vegetables, salad and herbs coming from the garden at various times of the year, and a tendency to favour farm shops and markets to supermarkets - but, as Paul Waddington quite rightly points out at the outset, not many people know exactly what is in season when and why it happens that way.
The book inspired me to pay a visit to
Coton Farm Shop
to stock up on British vegetables in accordance with the list of "Treats for the month" which opens the book's chapter for the month of August. Already being a firm convert to the ethos of 'eat fresh, buy local' when cooking at home, I was surprised at how little I knew about which vegetables might be UK-sourced at this time of year. We picked up fabulous plump British onions, aubergines, leeks, runner beans, and courgettes (the latter we are growing in the garden and have been enjoying for a few weeks already), as well as some fat, ripe tomatoes.
Coton Farm Shop
is one of the better priced options for buying local (or at least seasonal and British) produce and we managed to stock up on a good selection of vegetables to last us a few days for much less than we might spend if we popped to one of the big supermarkets every day for veggies or a bag of salad.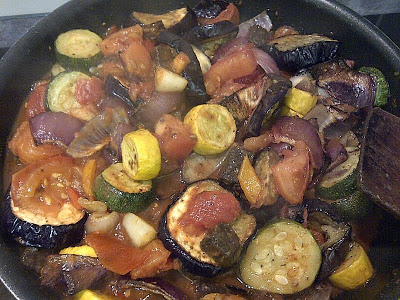 I don't think I'm quite at the stage of setting up a smallholding in my back garden yet but the book has definitely made me think. The combination of courgettes, aubergines, tomatoes, is tempting at any time of year but suddenly even more enjoyable when you discover that by choosing to put them together now, you're eating fresh, seasonal ingredients at exactly the time you should be (and they, naturally, taste great together). For that reason, this evening we're taking Paul Waddington's advice and using our vegetables to best effect in an August ratatouille. You'll have to pick up a copy of the book for his recipe, far superior to what we cobbled together I am sure. I hope I'll be as enthusiastic when we hit February and the vegetables of choice are most certainly not taking on a Mediterranean theme!! We shall see...
According to
Seasonal Food
, we should be enjoying aubergine, French beans, runner beans, broccoli, courgettes, fennel and samphire this month. Also coming into season are leeks, wild mushrooms, squash and pumpkins, sweetcorn and tomatoes.
Enjoy! :-)