Thorpeness
I enjoyed another fabulous few days at the Suffolk seaside last weekend when The Boy and I took Ma and Pa to visit our Very Special and Exciting Wedding Venue!! We celebrated the paying of the deposit and setting of the wedding date by sampling the incredibly good value three-course lunch menu at
Thorpeness Hotel and Golf Club
near Aldeburgh.
The hotel restaurant overlooks a very impressive golf course (or so I'm told) and is open to non-residents and non-members of the club. Service is always with a smile and the wine list, supplied by Adnams, is varied and interesting. Both times I've eaten at the restaurant I've found the main course slightly lacking and overshadowed by the excellent starters and desserts on offer. On this occasion, the highlight of the menu for me was a delightful chocolate terrine with pistachio ice cream, which I
just
managed to squeeze in after a generous serving of hearty butternut squash soup and a dressed Cromer crab salad. I love combining pistachio and chocolate, and here it was done beautifully: plenty of crunchy pistachio to cut through the smooth, rich chocolate terrine. One for the wedding menu shortlist methinks...
Chocolate Terrine & Pistachio Ice Cream

We felt we couldn't make a trip all the way to the seaside and not have fish and chips so we decided to try out the laid-back restaurant adjoining the
Seahawks
Fish and Chip shop in Leiston. It's a lovely little beach-comber style place; unpretentious, friendly, and licensed. A bottle of wine was very reasonably priced and the food was good. The quality of the fish was nothing special but the chips, mushy peas and thick curry sauce were delicious. The Boy, being an ex-fishmonger and therefore something of a connoisseur, was disappointed. Next time we'll do it the proper way, find a chippy on the seafront, and eat our fish with our fingers straight out of the brown paper!
Curry sauce & mushy peas
After all that eating, drinking and wedding excitement, we still found time for my favourite Suffolk past-time: walking along the pebble beach or on the heaths with the North Sea spray in our hair and faces. The Boy and I exhausted ourselves marching along the shore into the harsh wind, dodging solitary fishermen and spotting beach treasures like sea kale and glistening cockle shells.
Beautiful sea kale

We recuperated by lying back on the pebbles, looking up at the stormy April sky, and daydreaming about seeking our next lunch at the
Eel's Foot Inn
in Eastbridge. A great
Adnams
pub and Bed & Breakfast almost in the middle of nowhere, the
Eel's Foot
is a real hidden gem surrounded by stunning countryside. The food is always fresh and tasty, with a daily specials menu that includes some great locally sourced ingredients. It's worth staying the night in one of the six en-suite Bed & Breakfast rooms too, just to sample the amazing cooked breakfast in the morning!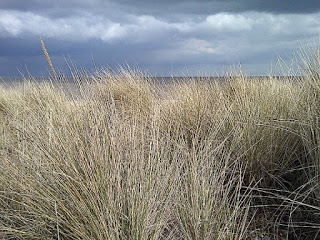 Lazing in the dunes
This weekend... I'm back in Cambridge and planning to enjoy a few more of my favourite Cambridge places. I'll keep you posted!
Enjoy :-)