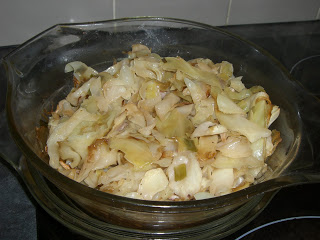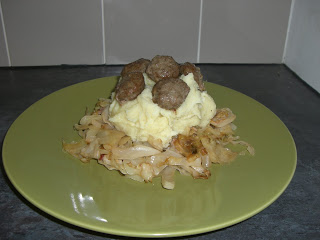 A really simple supper using beef meatballs, paired with a creamy potato and parsnip mash, with slow-cooked cabbage and bacon on the side. Full of flavours and great for a cosy winter's evening.
Meatballs, mash and cabbage with bacon

Ingredients:
Packet of prepared beef meatballs (we use Tesco British Beef meatballs - good to have a packet or two in the freezer)
Mash:
Potatoes, sliced into chunks and boiled
Parsnips, sliced into chunks and boiled
Butter
Creme Fraiche or greek yoghurt
Salt & pepper

Cabbage:

Green or white cabbage, sliced roughly
Olive oil & butter
Bacon, sliced finely with fat on
Spring onion, sliced
Salt & pepper
White wine vinegar
To serve: tomato ketchup :-)
1. Fry the spring onion and bacon in a mixture of olive oil and butter in a large pan with a lid. When softened add the sliced cabbage and reduce the heat, cover the pan and cook for 5 - 10 minutes.
2. Season well , add a few slurps of good quality white wine vinegar (I use Aspall organic white wine vinegar), stir, and transfer to an ovenproof lidded casserole dish - preheat the oven to 140 - 160 degrees if necessary.
3. Cover with the lid and cook on a low heat for 1.5 hours.
4. Meanwhile, cook the meatballs according to instructions and boil the potatoes and parsnips for the mash - allow about 20 minutes for this part. Drain the veg and season well, mashing it roughly, then add butter and creme fraiche or yoghurt and mash until really smooth. Season more if desired and add a pinch of grated nutmeg for a more fragrant taste.
5. Serve the cabbage and bacon as a bed for the mash then stick the meatballs into the mash, with some ketchup on the side for dipping if desired.
Yummy!