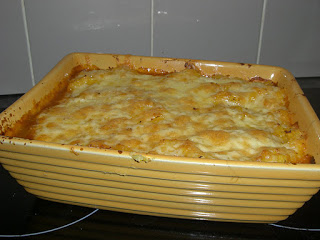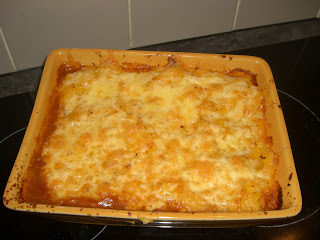 A budget supper to use up random ingredients, with turkey mince, traditional vegetables and a touch of winter spice! Turkey mince is inexpensive and this cottage pie makes a nice change from beef - and it makes a normal winter dish a little more festive (even though there are still two months to go until Christmas :0)).
What you'll need:
Shallots, finely sliced
Garlic, crushed
Turkey mince
Carrot, diced
Stock - chicken or a red meat if you prefer
Worcestershire sauce, a dash or two
Tomato puree
Black pepper
Ground cinnamon
Brown sugar, a few pinches
Frozen peas (optional)
For the mash:
Parsnips, boiled and mashed

Butternut squash, boiled or roasted and mashed
Cheese
Grated nutmeg
Butter
Milk
Salt & pepper

(*Tip*... To give this dish a Caribbean kick, replace the cinnamon with Caribbean Everyday seasoning or jerk seasoning and add a whizz of allspice to the mash.)
1. Gently fry the crushed garlic and chopped shallot in olive oil. When soft add the turkey mince and break up in the pan.
2. Add chopped carrot and fry until the mince colours.
3. Add a squirt of tomato puree, a few dashes of Worcestershire sauce and sprinkle the stock cube over the meat. Stir well and cover with boiling water. Season and sprinkle with cinnamon and sugar and leave to simmer with the lid on. Add frozen peas if desired.
4. Meanwhile, chop parsnip and butternut squash and boil for about 15-20 minutes, until soft but not breaking up. Drain and mash with butter and milk. Season and grate nutmeg into the mixture.
5. Preheat the oven to 180 degrees. Tip the turkey mixture into a rectangular oven proof dish. Top with the mash and bake in the oven until it starts to turn golden brown. Sprinkle with grated cheese and turn the heat up to 200 for about 10 minutes, or until the cheese melts.
Serve - try it with a nice thick cranberry sauce and a glass of mulled wine!
Enjoy ;-)