A review produced for localsecrets.com
A top secret location. Intriguing emails providing hints and snippets about the upcoming food menu. Anonymous, faceless photos of beautifully laid tables. And one fantastic name. The anticipation prior to attending my first Plate Lickers Supper Club was almost as good as the evening itself. Almost.
The Plate Lickers Supper Club held its second meeting this weekend, attracting 30 local diners looking for some good, home-cooked food and something different to do on a Friday night. Spreading the event date by word of mouth, social networks and local media, the clandestine club announced the Middle Eastern inspired, 5-course meal, with an email address for RSVPs. Instantly intrigued, I found an available foodie friend and signed up immediately.
After much speculation about dishes to expect and even more deliberation over BYO wine choices, we arrived at the secret city centre venue and scoured the menu; painstakingly prepared and sourced by the food loving hosts and featuring interesting combinations of Middle Eastern inspired ingredients. The menu was a lively mix of influences and tastes; from the alarmingly good Houmous and Aubergine Dips, served with delicious, rustic flatbread and crudités, to the unexpected Pork Belly main course, which you definitely wouldn't usually see on a Middle Eastern menu but worked perfectly with the accompaniments of cous cous salad and a fantastic green bean, hazelnut and orange salad. In case anyone is wondering, we opted for an Austrian white wine -
a
Huber Grüner Veltliner
- which was recommended by the
Cambridge Wine Blogger
and supplied by
Cambridge Wine Merchants
on Bridge Street. Though selected with spicy, perhaps tomato-based Middle Eastern dishes in mind, the wine was a real hit with both my friend and I for its peach aromas and then crisp, citrus and floral tones. We were impressed by the lower level of acidity in the wine compared to, say, a Sauvignon Blanc from New Zealand which we likened it to. We drank the wine when it was only slightly chilled, which it seemed to lend itself to rather nicely, and it was a great match for most of the food we sampled. We both agreed it was very easy drinking, perhaps more so than I expected from previous experiences of similar wines such as Rieslings.
The magic of the covert operation continued to unfold as we took in our surroundings. Guests were greeted by a delightful sight of candle-lit tables, covered with brown paper, fresh flowers in simple glass jugs, and pretty place settings of candy-striped cloth napkins and floral china. The friendly reception from hostesses Jo and Ivana was very welcome after a long week at work, as were the refreshing and attractive pink Pomegranate and Vodka Cocktails which we sipped whilst meeting fellow guests and tucking into the homemade dips and flatbreads. The atmosphere at the supper club was relaxed and friendly; aimed at anyone interested in good food and easy conversation. People attended alone, in couples, groups of friends, or, like me, to indulge an obsession with all things foodie.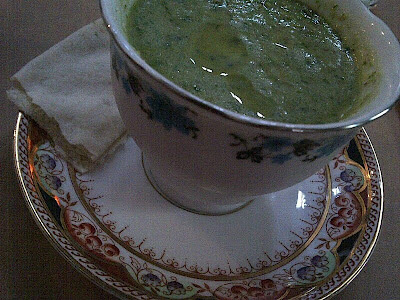 With so many lovely little finishing touches (our hostesses had really thought of everything) and a table full of dinner companions to get to know, we'd decided that the suggested donation of £30 was well worth it before we'd even tucked into our main courses. The menu kicked off with a chilled, Mediterranean-style Gazpacho soup, fully flavoured with garlic, hints of pesto, bright green in colour, and served in adorable mismatching tea cups. This whetted our appetites for the substantial main course of a good, meaty hunk of the Pork Belly, served with fresh, fruity salads, garnished with nuts and an amazing gooseberry, ginger and elderflower relish. For me, the relish held the roasted, salty pork and the sweet, juicy salads together. I was even more delighted by it when Jo told me the gooseberries were picked from her mum's garden and lovingly made into a dozen jars of the jam-like relish. The menu ended on a high, with a palate cleansing mint tea and orange blossom sorbet followed by the impressive nut stuffed baked peaches. The highlight of the meal for me, the dessert was expertly cooked, not too sweet, piled high with gorgeous, sticky clusters of roasted nuts, and accompanied by a perfect, moist square of almond and polenta cake to soak up the fragrant cinnamon syrup. Being a big fan of curries and spiced dishes, the only addition to the menu I would have liked to see is perhaps some spicy, grilled meat or kebab-style dish using the typical Middle Eastern sweet n spicy mixes of seasoning and herbs.
Feeling full and content, we savoured the last few mouthfuls of the feast, drained the last sips of wine from our glasses, marveled at the smooth and effortless hosting and service, and then we were outside on the rain-soaked streets feeling as if the whole experience had been a dream and eagerly awaiting the next one.
The smooth and effortless planning, preparation, hosting, serving and (I assume!) clearing away were provided by the fabulous Jo and Ivana, AKA @afternoontease www.afternoontease.co.uk and @missigs www.missigs.com. Jo is an expert baker and blogger, producing mouth-watering cakes, home-made chutneys and providing Afternoon Tea parties to the lovely ladies of Cambridgeshire. Ivana is a keen cook and caterer, sharing some fabulous favourite recipes and divine food photos on her blog.
You can contact them here for more details about the Plate Lickers supper clubs:
platelickersanonymous@gmail.com .
Enjoy! :-)
Visit
localsecrets
to read my review featured in the Food and Wine e-magazine.